Scout Books Short Stories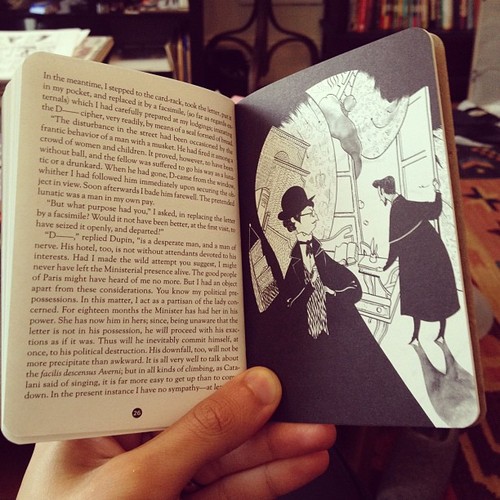 Selections  from a series of illustrated short story pamphlets which I edited for Scout Books. Released in themed trios including Fantastic Tales I & II, Forever Modern, War Stories, and the History of Mystery, each individual title paired one or more stories by a classic author with new drawings by a contemporary illustrator. My work on the project as series editor included selecting the stories and artists, typesetting, design of the cover trade dress and interiors, and giving feedback to artists. Incredible support and assistance from Laura and Austin Whipple and Taryn Cowart.
You can buy the books at the Scout Books website.
The Star Child | Oscar Wilde + Julia Gfrörer
The Twelve Dancing Princesses and Other Tales | Brothers Grimm + Eleanor Davis
Fables | Aesop + Ryan Berkley
The Purloined Letter | Edgar Allan Poe + Roman Muradov
The Blue Cross | G. K. Chesterton + Dustin Harbin
The Adventure of the Blue Carbuncle | Arthur Conan Doyle + Ethan Rilly
The Tell-Tale Heart | Edgar Allan Poe + Malachi Ward
The Fall of the House of Usher | Edgar Allan Poe + Tom Neely
William Wilson | Edgar Allan Poe + Levon Jihanian
The Garden Party | Katherine Mansfiled + Dylan Horrocks
Araby and Other Stories | James Joyce + Lizzy Stewart
Kew Gardens and Other Stories | Virginia Woolf + Jennifer Parks
An Occurrence at Owl Creek Bridge | Ambrose Bierce + François Vigneault
The Little Regiment | Stephen Crane + Simon Roy
The Private History of a Campaign that Failed | Mark Twain + Pete Gamlen
The Giant's Heart | George MacDonaled + Lark Pien
The Isle of Voices | Robert Louis Stevenson + Andrea Kalfas
Mowgli's Brothers | Rudyard Kipling + Rebecca Dart
To Build a Fire | Jack London + Michael C. Hsiung
All Gold Canyon | Jack London + Matthew Forsythe
The Love of Life | Jack London + Reid Psaltis